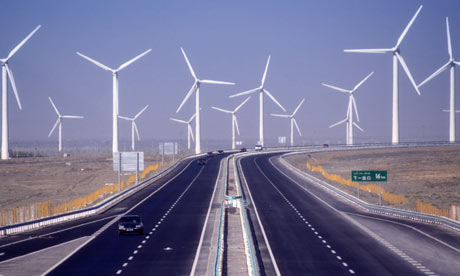 Talk is cheap.  However, according to this article in the Guardian, it would seem that China are making significant progress with regard to drastically increasing their use of sustainable energy. 
Is this the start of a new "Green Energy Race" between China, Europe, and the US? 
It is an interesting position - the Chinese government are able to push ahead with dramatically increasing their use of wind and solar power which, in no small part, is due to the political control they wield.  With few planning considerations, no compunction surrounding the displacement of residents, no shortage of cheap labour, and no political debate - the green revolution can move ahead at a startling rate. 
The question is, how do Europe and the US avoid getting left behind without sacrificing their democratic political systems and practice?  Answers on a postcard...................